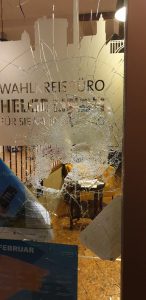 Wuppertal, 16th april 2020
Attack on SPD office: 50 people are not enough! Bring them all in! Fight fortress Europe! For the social revolution!

The SPD got broken glass and paint in the Luisenviertel tonight because of its inhuman policy against refugees.

"Glass clinks and you scream.
People die and you are silent."
Früchte des Zorns

We know that the action was unfortunately only symbolic and, in view of the suffering for Europe, Germany and its government, the SPD, on the Greek islands and on the EU's external border can hardly be appropriate. But we want to express our anger. And we hope that we can increase the pressure a bit. The people of Moria must finally be freed from their situation. They are in the death trap! And it would be possible to easily accommodate them all in Germany, oh what in Wuppertal without anyone having any particular problems. But that's not politically wanted. In times of the pandemic, the focus is even closer to the national "we". The ruling parties SPD / CDU definitely do not want to leave an open flank to AFD, now that quite large sections of the population are back behind them.
It is obvious that the efforts of Seebrücke, #LeaveNoOneBehind and ours so far are still far too weak. We have to take more risk! Even if it is currently forbidden to demonstrate? More or clearer militant actions (than we are currently able to do)? Everything has to go!
The injustice that occurs at the external e-borders will rightly not forgive us for future generations. The question will be: What did you do?

Some will ask: yes, but why the SPD? Why exactly the nice Mr. Lindh, when he is so anti-fascist and anti-racist? Very easily! Whoever speaks of a hard fight against Seehofer for 50 (!) Refugees while thousands continue to starve should not brag, but at least keep his mouth too big out of shame. The SPD is just as responsible for the crime that is committed against the people of the Greek islands and on the EU's external border as the CDU.
By the way, the nice Mr. Lindh advocated Seehofer's "Hau ab" law from last year! Lindh is a shame for every anti-racist and anti-fascist movement!

And those who throw their fundamental rights overboard with their ruling party as soon as there is a serious crisis should never rely on democracy. Anyone who is involved in the deportation of people, who does not do anything effective against the misery of the refugees (but only appears to be) and who cannot think of anything when thousands of people are crammed together in a confined space during a pandemic is not a victim – he is violent!

We also call for the autonomous May 1st! For the social revolution, something else won't help in the long run!
Source: Indymedia (Tor), Spiegelung (Tor)